You would love to create a beautiful website on Wix, but you have read that Google has a terrible time with this platform. Is it still true? You need your website to have a good SEO positioning, so is it better not to use Wix?
Yes, it is true that Wix used to have a bad reputation (speaking clearly, horrible ) when it came to SEO, and the reasons were valid. Wix added characters to the URL, it worked mainly with Flash, and its blog was not SEO friendly because of how it handled the title, meta description and even the URL.
Well, I have some good news: Wix has dramatically improved its SEO rankings .
In 2016, Wix fixed most of the SEO problems that had given it a bad reputation, something that still persists to some extent. But do not worry; even a longtime Google employee, John Mueller, publicly announced on a company forum that Wix websites perform well on Google's search engine.
However, getting a good position in search engines depends not only on the website builder you choose, but also on the parameters and tools you use on the platform . Do not forget that the most important thing is your general SEO strategy, of which the platform is only a tiny part.
We are interested in your website being positioned as high as possible, because hey, when you look good, so do we , but we also want you to have as much free time as possible. So we have already taken care of doing the hard work (not really, because it cost us nothing) and figuring out how to use Wix to improve your website's SEO positioning.
How to use the Wix SEO wizard
Great SEO positioning doesn't happen overnight; it is due to a comprehensive (and sometimes complicated) strategy that uses keywords, links, and requires keeping up with updates from Google. However, the best neighbor SEO strategy doesn't necessarily have to be the best one for your business.
To get your website to rank as high as possible, use its assistant, Wix SEO Wiz . It is a powerful and easy-to-use tool that will take care of creating a personalized SEO plan for you (if you have read reviews of Wix , you probably know that users of this platform confirm it).
To start the wizard, go to Wix , go to your settings, click SEO and finally hit the "Start now" button.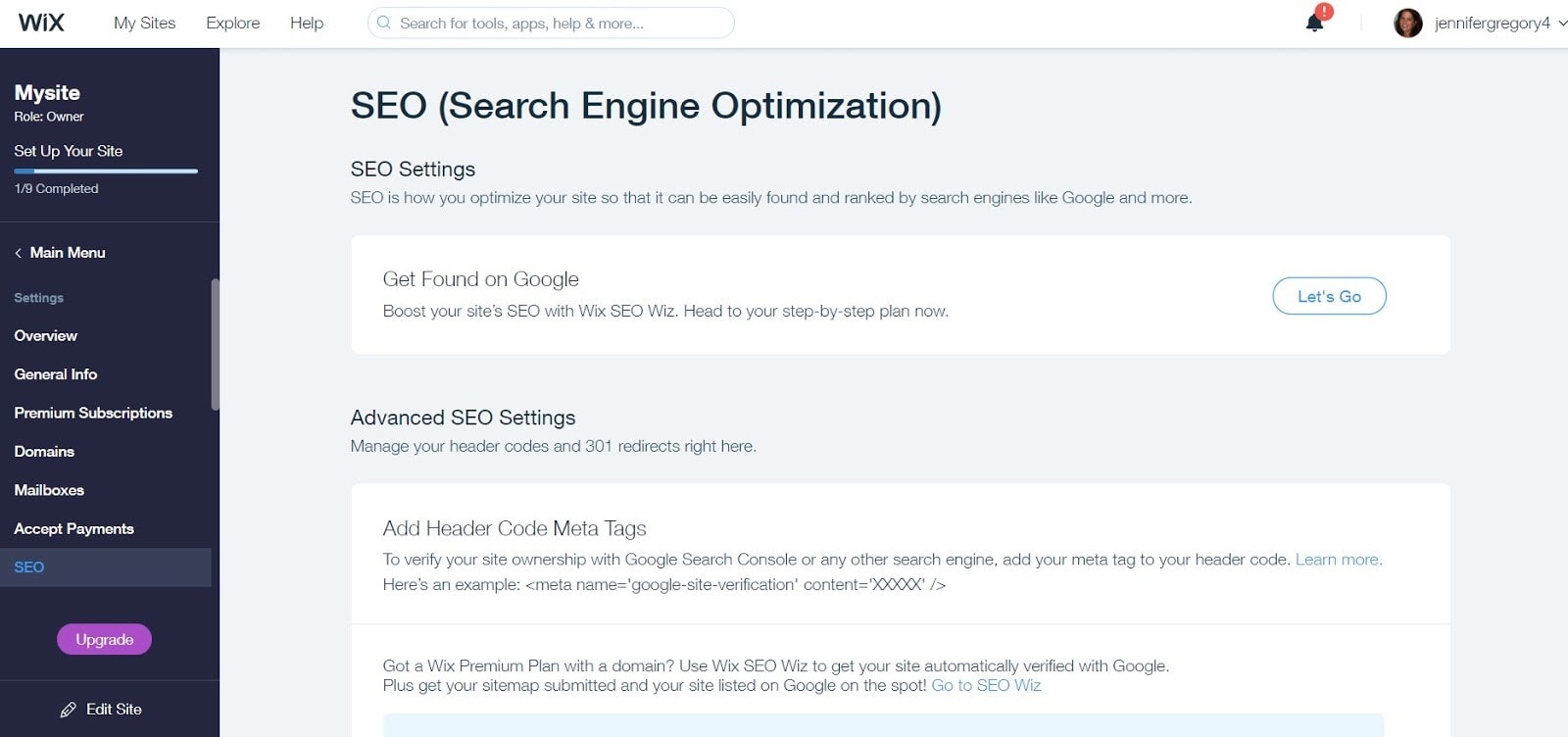 Your plan will detail exactly how to achieve three crucial factors for your SEO positioning:
Appear in Google lists
Optimize your websites for SEO
Keep improving your SEO
Then it will be up to you to put the plan into action. Wix makes it so easy for you that you won't have any excuse not to take the next step. Or the next five.
5 ways to improve your SEO positioning with Wix
I think Wix is ​​not selling as well as it should: it offers you an "SEO plan", but it is more than just a plan ; it is a roadmap that points you to the exact place in the editor where you should make a change.
Well, do you really care about your SEO positioning? Here are five of the most important things you need to do in Wix to improve it:
SEO Booster # 1: Optimize Your Home Page
Before your website is included in the Google lists you need to optimize the home page.
Step 1 Click Update Home Page Title . You can use the Wix recommended title or take a look at the attached guidelines to write your own. Then, click on the "Go To Editor" button, follow the instructions and hit "Refresh."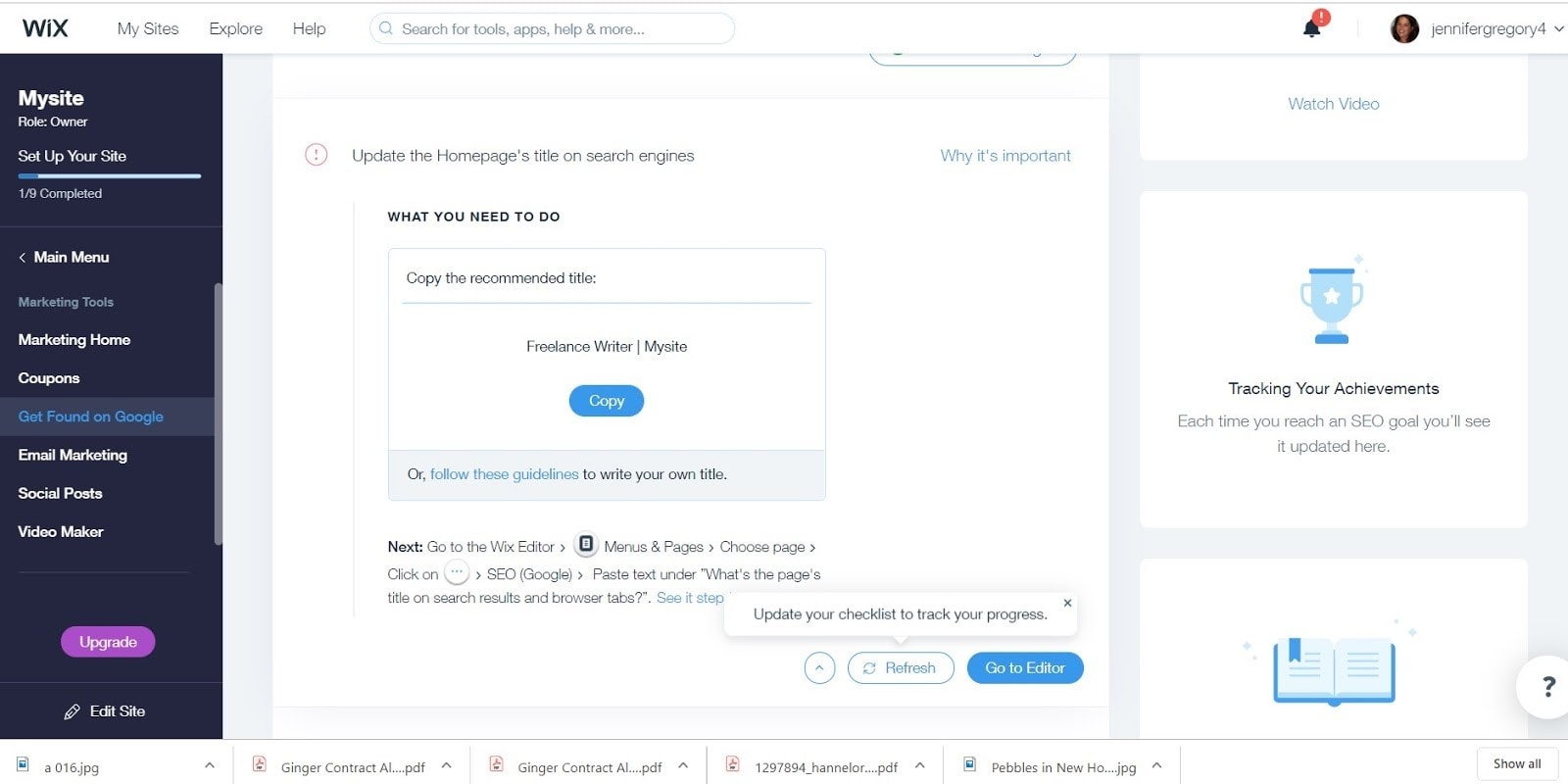 Step 2 Click Change Home Page SEO Description . There you will see how to enter your meta description, which is the text that appears just below the title on search engine results pages. Google gives this text high priority when establishing the ranking .
Follow the Wix tips for writing a good meta description. For example, you should include keywords and the name of your business.
Step 3 Click Update Home Page Text . This step will help your home page rank well for your keywords. Obviously, this means that you should use those keywords on your home page. Enter the Editor and incorporate them into the text organically, that is, without cluttering it or forcing them into the text.
SEO Booster # 2: Mobile Optimization
If a website is not designed for mobile devices, there is nothing more cumbersome than reading it on the phone. I may be exaggerating a bit, but you could compare it to people who talk screaming on their cell phones in restaurants or who forget to put the indicator when they drive. Since many people surf the Internet from their smartphones , Google penalizes those websites that are not optimized for mobile phones.
Wix is ​​capable of doing all the optimization on its own, so you won't need to know anything about programming , but you must tell it to do so. On the main page of the Wix editor, click Page Layout Optimizer .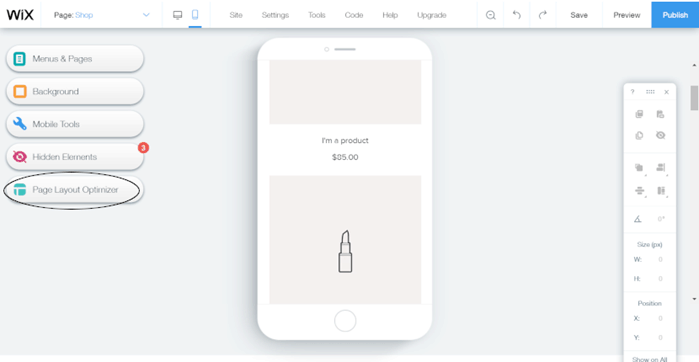 Now, click on Optimize Now .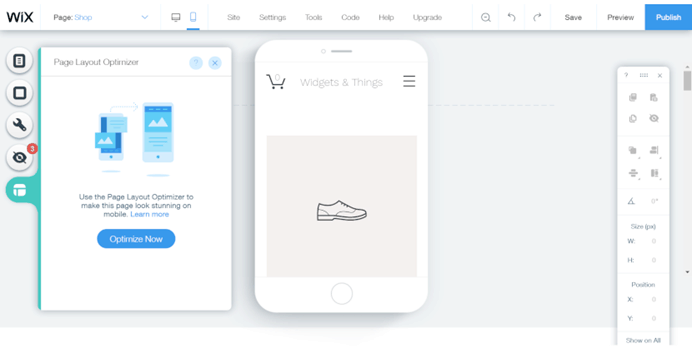 That is all! As simple as that. Wix will make sure the page size, display, and all of those things are on point.
SEO Booster # 3: Instant Google Indexing
You will only get a good position in the Google ranking if Google knows you exist, which is not automatic; you must inform Google. When you start Wix SEO Wiz , the tool adds you to Google , which according to Wix is ​​instantaneous.
Once your website is configured and your home page optimized, you must connect it to Google through SEO Wiz. It is very easy and the wizard will guide you through the entire process. You just have to go into Settings and then click on Get Found on Google , which will take you to Wix SEO Wiz.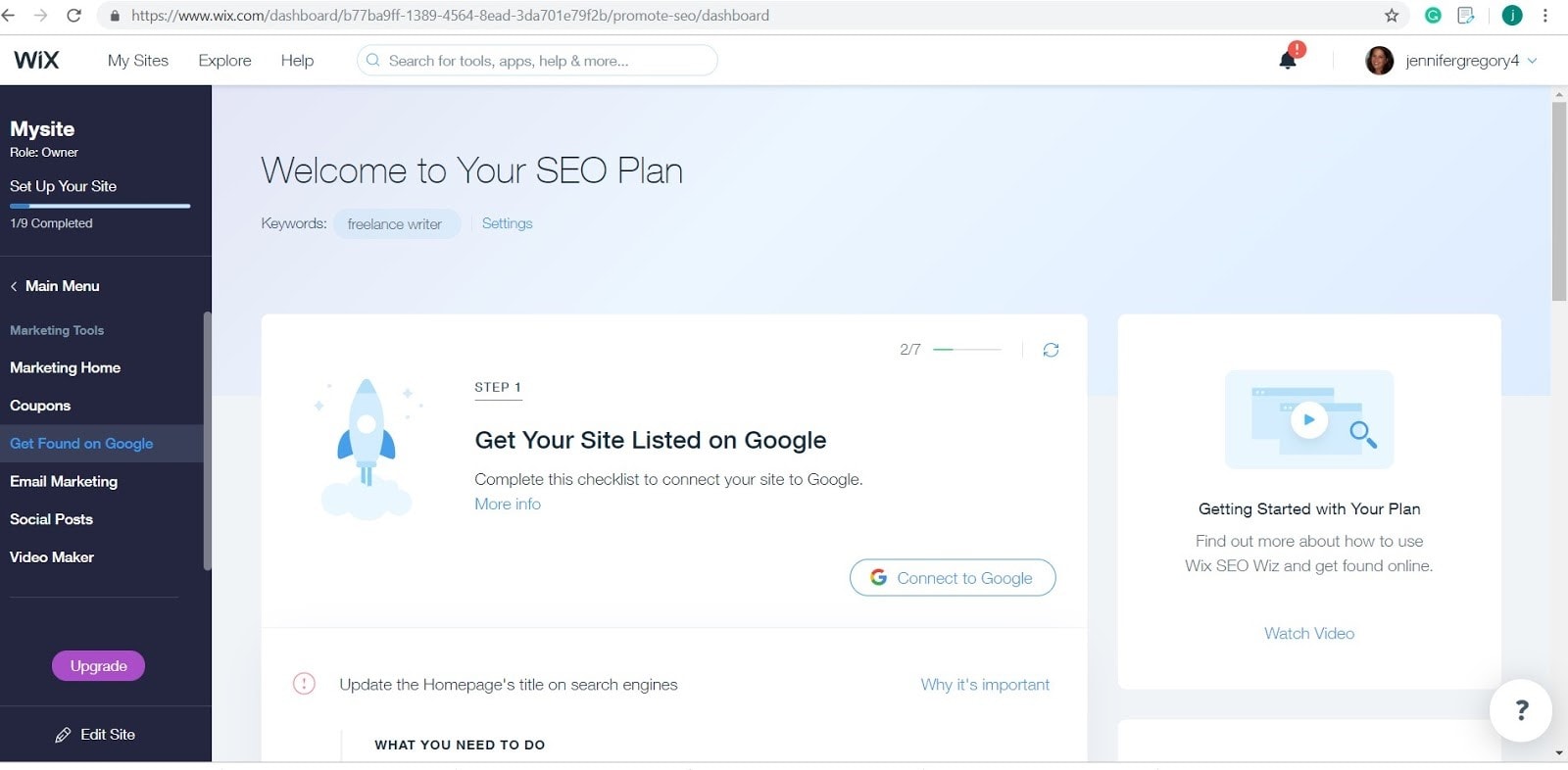 While you are on that screen, select Connect to Google to tell Google that your wonderful website exists and that everyone will want to visit it.
Once you have published your website, it is convenient that you confirm that Google does indeed know who you are. You just have to go to Google and write web: nombredetuweb.wixsite.com/web and the pages that are positioned with your name will appear. You can forget about Google now.
SEO Booster # 4: Canonical URLs
Surely you have several versions of your websites. Maybe you have one for a specific campaign and another for Facebook advertising, but they are really the same page and you would like Google to perceive them as one without positioning them independently.
The word that names what connects these pages is canonical URL , that is, the main URL of the web and, therefore, the one that you want Google to recognize. Wix puts it on your plate by creating a default canonical URL .
However, you may want to create your own URL. Start by clicking on Services and then SEO (Google) . From the Page Settings page , click on the Advanced SEO tab .
When the page appears, you just have to add the URL in the Cannonical URL field (circled below).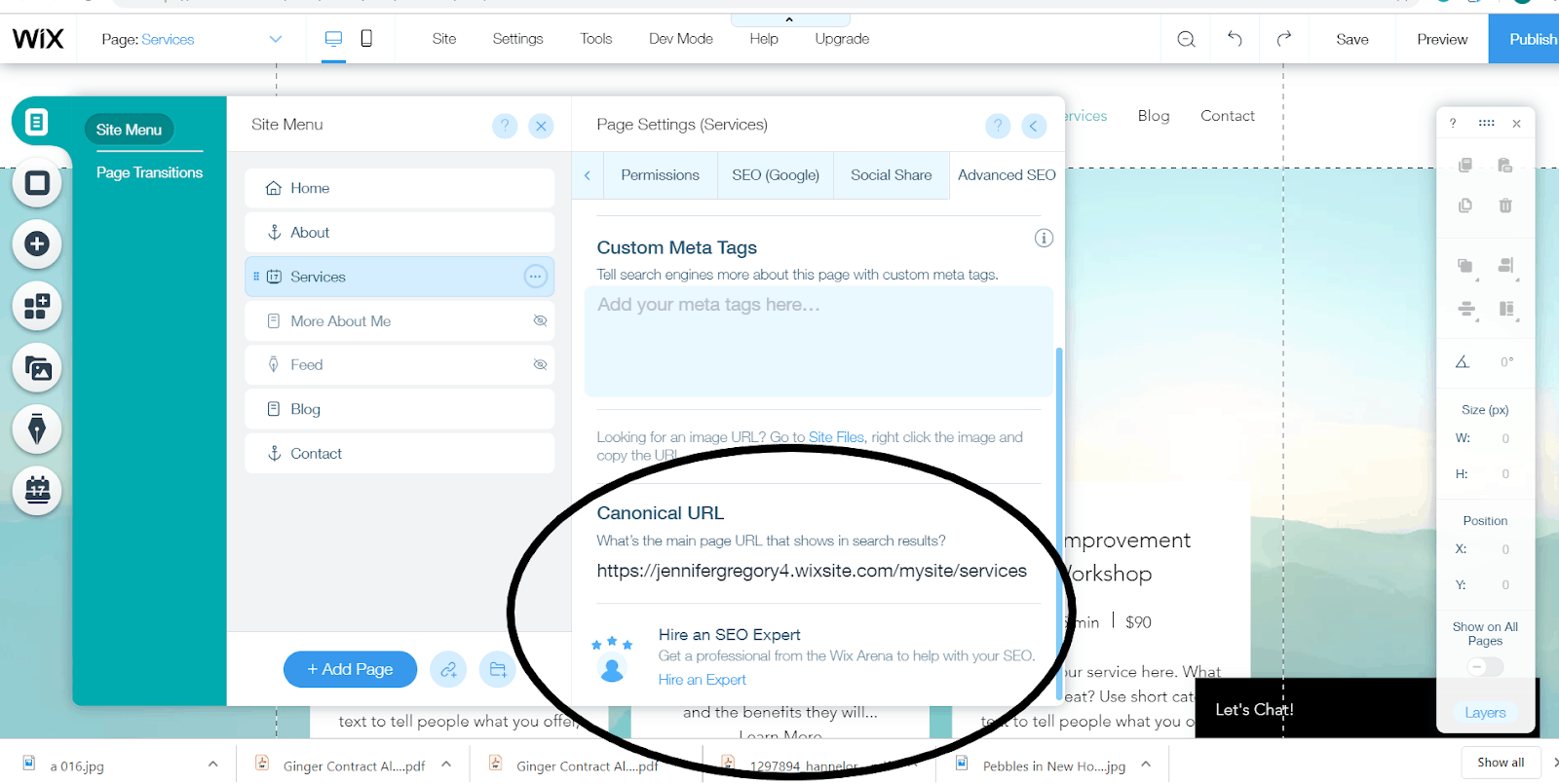 Now Google will perceive all the versions of the webs as one, with which all the weight of your SEO positioning will fall on the main page instead of being dispersed by several independent webs.
SEO Booster # 5: 301 Redirect Settings
Broken links are not cool. Entering an old website is even less cool and also, according to Google, it's a bad thing. Therefore, it is important to have 301 redirects from old websites that may be classified in search engines and that take you to your new Wix website.
Go to settings, click SEO and then scroll down to the Manage 301 Redirects section . Take a moment to learn about 301 redirects and then click Get Started to start linking your old pages to the new ones.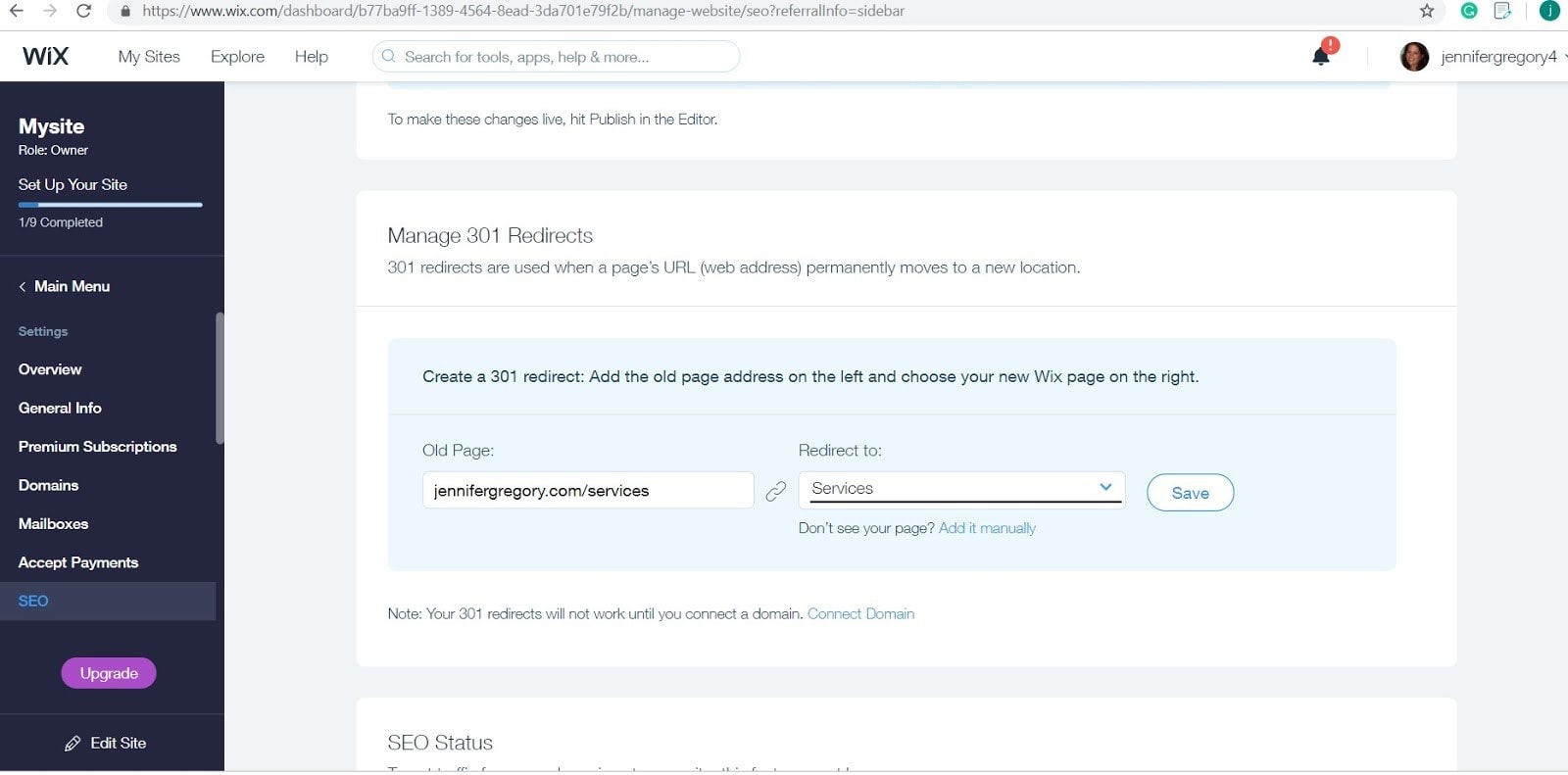 Enter the URL of the old page, select the new page, and you're done. Make sure to do this for every page that you are no longer updating or that is offline.
What does Wix need to be even cooler?
I like Wix; is a pretty good website builder in terms of basic SEO positioning, that is, tags, meta descriptions, and alt text. Recently, Wix has also added a comprehensive SEO Guide to help you create and use a strategy for tackling advanced SEO.
It is clear that Wix has invested a lot of effort in improving its SEO. However, I think it could improve in two areas:
The web map . Wix automatically creates a sitemap, which helps you with SEO, but doesn't allow you to edit it. It would be an improvement for advanced users if Wix added the option to customize it.
Image names . When you upload an image, Wix names it with a string of numbers and letters instead of giving it a meaningful name, which Google doesn't like. To improve SEO, you have to manually change it and name it based on the keywords.
Those are my recommendations. Overall, I'm still very pleased with how much Wix has improved. It is true that using another tool like SEMrush you can get a lot out of SEO, but you can still get a very good position only with Wix tools.
How does Wix rank against its competition?
Wix is ​​great, but you're still interested in how other popular website builders handle SEO . Let's take a look at a few
WordPress
As a website builder, I love WordPress . It is a very powerful tool that allows you to create websites full of features.
However, many of the SEO features, like custom URLs or canonical tags, ask you to install a plugin . Among my favorite WordPress SEO plugins are Yoast SEO , All in One SEO Pack, and Redirection (for 301 redirects).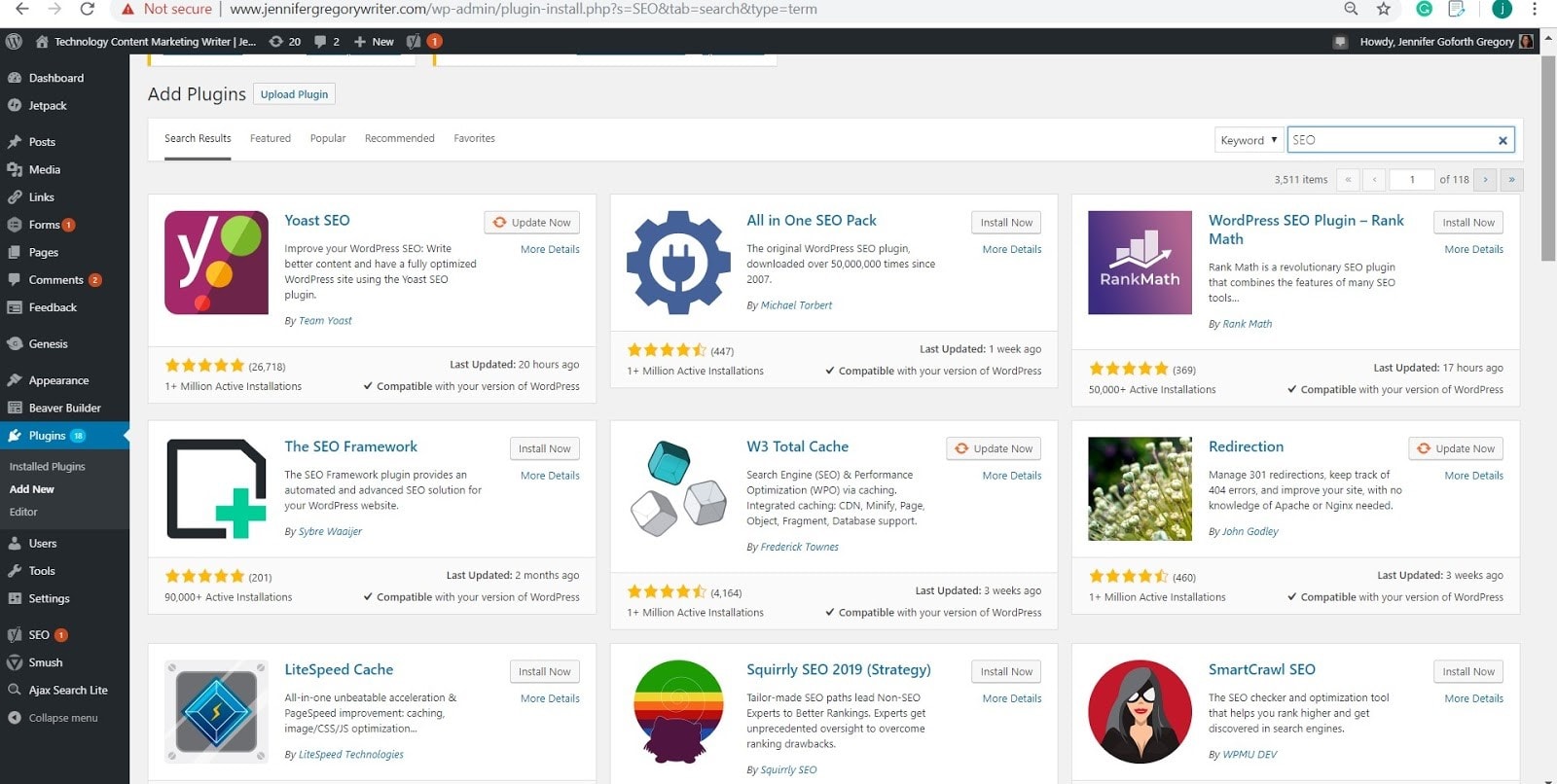 With Wix, these features are built into the SEO Wiz wizard . This saves time and is less likely to forget these important steps. In addition, with Wix you will not have to constantly update plugins: you will always have the most recent version of everything that makes up the platform.
Winner: Wix . In my opinion, its improvements and built-in functionalities make it much easier to get good results in SEO with Wix than with WordPress.
Squarespace
Wix and Squarespace offer similar functionality when it comes to SEO positioning. The biggest difference is that SquareSpace doesn't allow you to customize titles or meta descriptions on individual blog posts or products, while Wix lets you optimize them on all pages.
However, Wix makes it a lot easier for you to make changes and customizations in SEO . Wix creates an interactive SEO plan that gives you all the directions and links to make the changes. With SquareSpace, this information is in web help format, making it significantly less practical.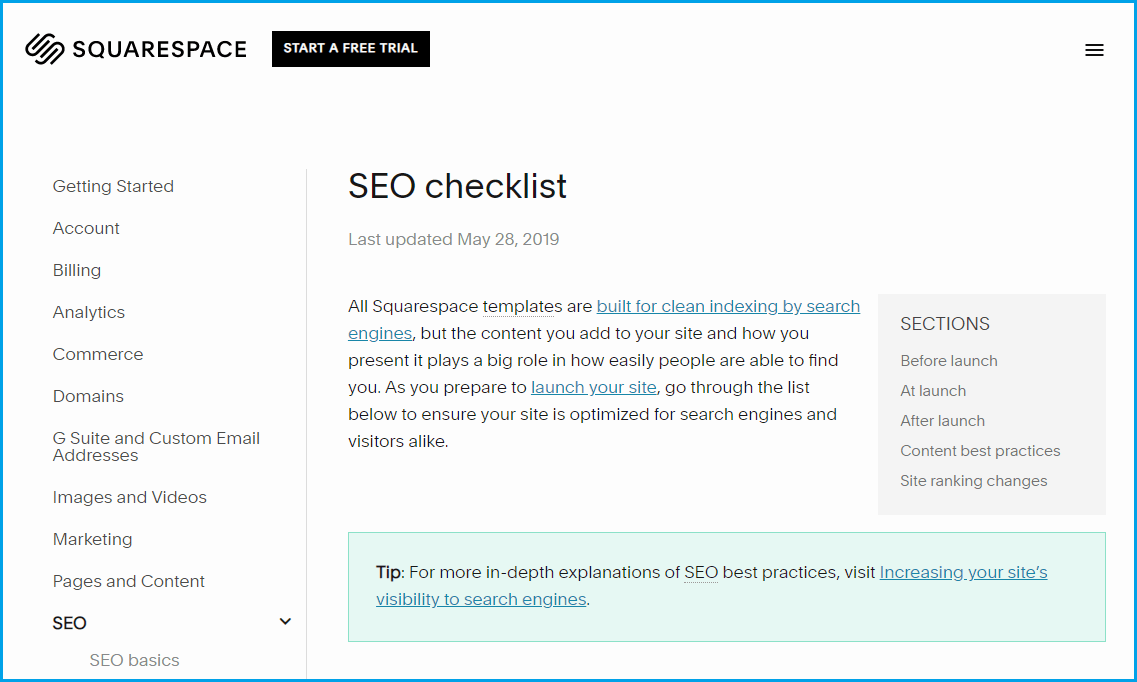 Winner: Again, Wix takes the medal. You will no longer have to look for how to find a field to update it, nor will you have to guess what you have done and what not; you can do the same with SquareSpace, but it's a lot easier with Wix.
Weebly
As I was writing this article, I read a few SEO guides for several different tools, and I definitely stick with Weebly's SEO Guide. I also love Weebly's automated prompts to improve SEO during the site building process.
However, Weebly does not have a wizard like Wix SEO Wiz, which makes it a bit more difficult to get the same rankings as with Wix.
Winner: Wix, by the hair. Or, should we say, by its wizard .
Start with an SEO strategy
We've repeatedly dropped that you need a real SEO strategy behind Wix SEO Wiz and we don't want to throw you into the pool of SEO without first giving you some tangible advice on how to create a strategy that allows you to move from basic to basic. advanced.
Keep in mind that SEO is a science; Remember that this article is only an introduction and should not be considered as a maximum reference.
Start with your audience . Who do you want to sell your product to? Take the time to understand what matters to them and what keeps them from sleeping at night.
Skip to content . What does your audience need to solve their challenges? What will allow them to sleep better? Find out in depth about the type of content and the topics your audience is interested in.
Learn everything you can about keywords . Spend time – a lot of time – on both free and paid tools, such as Google Analytics or SEMrush . Decide which keywords to bet on and how to rank better for them. Yes, Wix is ​​a fantastic website building tool. But it is still a tool. To get the best SEO positioning for your business, you have to use Wix as a starting point and use your knowledge, research, and sweat to get the job done.