The timing can never be right than this. It is a perfect time to create an on-demand grocery app. Your innovative Tesco Groceries Clone App can help ease the COVID19 impact on the grocery businesses.
However, before you go ahead and buy the white-label On-demand Grocery Delivery App like Tesco, let us take a look at the pain points of the grocery businesses, how to make your app profitable and pointers to integrate to make it successful.
Contemplating To Develop Tesco Groceries Clone App In On-demand Economy
If you look closely at any on-demand grocery delivery app, there are several crucial aspects associated with it.
The most vital one is "When" – if the grocery delivery comes a week later or tomorrow, there is no point in placing the order at all.
It is like "I want the groceries within 30 minutes, or I do not". This is the whole point of why On-demand Grocery Delivery Service is in demand.
Another aspect to consider is "What". What makes your customers happy? Which features/services they are using frequently. Does the app ask to rate the app?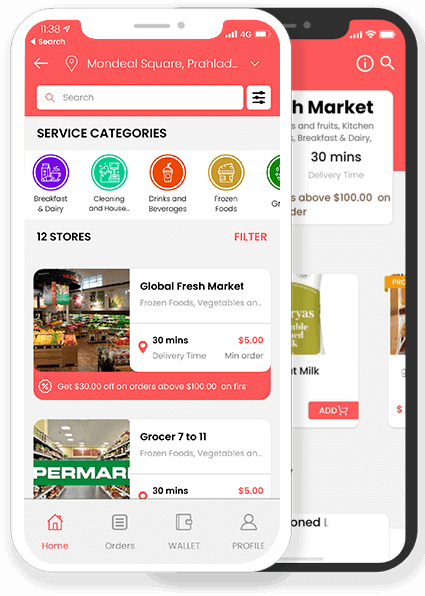 Reflecting The Painpoints Of The Grocery Delivery Business
Amidst Pandemic, we get to realize our business potentials. And the basics like buying groceries were a hassle. The majority of the consumer complaints were the groceries were out of stock. Thus, before you go on building Tesco Groceries Clone App following are the main points to consider.
Out of stock issues
With the pandemic hitting, getting hold of the daily essentials and groceries was equally challenging. Most of the customers over-stocked their pantries thus the situation lead to out-of-stock issues.
Apart from these, those groceries which weren't aware of the COVID19 situation were left with lesser stock. Thus, the network of supply-chain became challenging.
The long wait for the checkout
Imagine in this COVID19 situation, there is a long checkout line. Not only it is time-consuming but too risky to catch the virus infection. The traditional grocery store owners are unable to handle these issues. Thus, most of the customers abandon their carts leaving the grocery store.
Growing competition
This is perhaps, every grocer's issue today. With the growing competition and most of them shifting their business to online, these grocers feel left out. The pandemic has done enough disruption, they are trying hard to boost the grocery sales. Offering discounts, free delivery, slashed prices are the few tactics that these grocery stores are trying hard to bring business to life.
Why Grocers Should Build Tesco Groceries Clone App?
Let us have a look at the top pointers of why grocers should invest in an on-demand Grocery Delivery App:
Quick and hassle-free search
What could be the first thing that a customer will look for in a grocery delivery app? The search bar right.
Your On-demand Grocery Delivery App will hold more value when the customers can perform a quick search and add items to the cart. Completing their grocery shopping in few minutes, making your customer free in no time.
Wide range of variety
Practically it is challenging to accommodate a wide range of grocery products, similar products from different brands as well as fresh produce.
An on-demand grocery delivery app can help with this problem. You can have as many grocery products as you like without worrying about scalability. The Tesco groceries delivery clone app can easily accommodate the growing demand of your users.
Live order tracking
Providing grocery tracking helps build trust and satisfaction in your customers. Apart from this, the Admin can check on the grocery ordering and delivery mechanism on a real-time basis.
When creating your app, remember to integrate administrative panel management that can help you with the full management of orders, right from order generation to delivery of the parcel.
Discounts and personalized offers
Owning a Grocery Delivery App means you can promote in numerous ways. Offering a personalized shopping experience to your customers, hefty discounts can make your customers super happy.
What Does It Take To Make Your Tesco Clone App Profit Making?
For instant grocery deliveries, you must rope in the local suppliers and grocers within your network. Thus, ensure they are dependable in providing on-demand grocery services.
Having dedicated delivery drivers is crucial. Make sure you have committed drivers to carry out the deliveries on time. Also, you can hire third-party delivery driver service providers by completely outsourcing the delivery handling part.
While on-boarding the grocery stores and suppliers can you ask for commission over the user's billed amount. Also, you can charge a percentage on distance-wise deliveries.
To increase your business profits, you can add delivery service charges to your customer's bill. Moreover, you can charge a commission based on the demand of the grocery products, cancellation charges, membership fees as well running 3rd party AD banners can boost the profits.
In conclusion, If you are looking to build a rich-featured on-demand grocery delivery app like Tesco that can help to ease the COVID-19 impact along with bringing value to your business, approach a reliable app development company.
The success of your On-demand Grocery Delivery App highly depends on providing an enriching experience to your shoppers. Thus onboarding an experienced mobile app development company will make a hell of a lot of difference. Get in touch with the app development team to know the Tesco groceries clone app development process, cost of the on-demand grocery delivery app, and days it will take to launch the white-label Grocery Delivery App.