One of the essential components to present your best first impression in a job interview is how you dress. It doesn't matter what position you are applying for, a decent candidate should be clean and properly dressed to have greater chances of getting the job. However, choosing an outfit for your job interview can be difficult. Don't worry, we're here to help you out! In this article, we'll share with you what you must wear for the interview, extra tips to prepare, and the importance of job interviews. 
The Importance of Dressing Well for an Interview
Company often outsource their recruiting process to a recruiting firm, where they do all the effort from marketing & advertising including jobs flyer distribution to attract a right candidate and send him for a interview process. This whole process to send an individual for an interview incurs a lot more cost than we think, so please choose your attire wisely.
A job interview gives you the chance to sell yourself by having your talents, knowledge, and experience stand out from the rest of the applicants. There are steps when it comes to preparing for a job interview, such as compiling a list of questions to ask the hiring manager, printing out resumes and record of references and managing supplemental research. With that, you should also take the time to dress suitable for an interview can make more confident and comfortable when answering questions while meeting the outfit requirements for the employer. 
Select Several Basic Pieces 
Although it's great to wear men's designer clothes to impress your employer, you don't really need to spend plenty of cash or gush out through fashion magazines to determine what to wear to your interview. Good thing is, men's fashion is fairly straightforward. Utilizing some basic pieces will make it easier for you to come up with an outfit that is fashionable, professional, and refined. 
Opt for a Textured Blazer 
The best type of blazer you can wear when you're in an interview with a hiring manager is a tweed or corduroy blazer that will provide you with enough professional appearance. But it's advised that you keep it formal with a textured blazer except you're told otherwise. If you want to keep it formal, you may match it with a tie, button-down and slacks to provide a serious but special impression. 
Explore Colors and Layers Together 
After getting the interview you've been waiting for, you may not be sure about the company's dress code before you arrived there. On the other hand, interviews at startup companies or for ordinary jobs can mean a more casual outfit. But here's a rule of thumb, if you're interviewing for a professional position, it's crucial that you opt for a formal look. Needless to say, even within the "business formal" criteria, there's a big range of various dress codes. It's best to opt for something professional that doesn't look "stuffy" or cautious.
For a modern and stylish look but maintains that work-place appropriateness, you can have a grey suit with a colourful button-down and sweater underneath.  
A Sweater and Button Down
You may layer nice weather with a button-down for the most reliable business casual look. You may go for good neutral colours such as brown, navy, and black since they can be paired with plenty of shirt colours like pink, yellow, green, blue, green, or white. Then you can pair the layered top with khakis, dark wash jeans, or grey chinos in a more informal environment like a startup company for a quick interview outfit. 
Pick a Conservative Tie 
When it comes to your choice of a tie for an interview, you want to be more conservative about it. Furthermore, employers prefer to see you in a professional look when you arrive at their company, however, you can have more options to choose from in a business casual environment including a blue tie with a fixed design. Commonly, a modest design involves stripes or a checkered pattern that lines up with the colour. Choose a piece carefully since it can also be one of their determining factors of providing a nice first impression. 
Eye-Catching Button-Down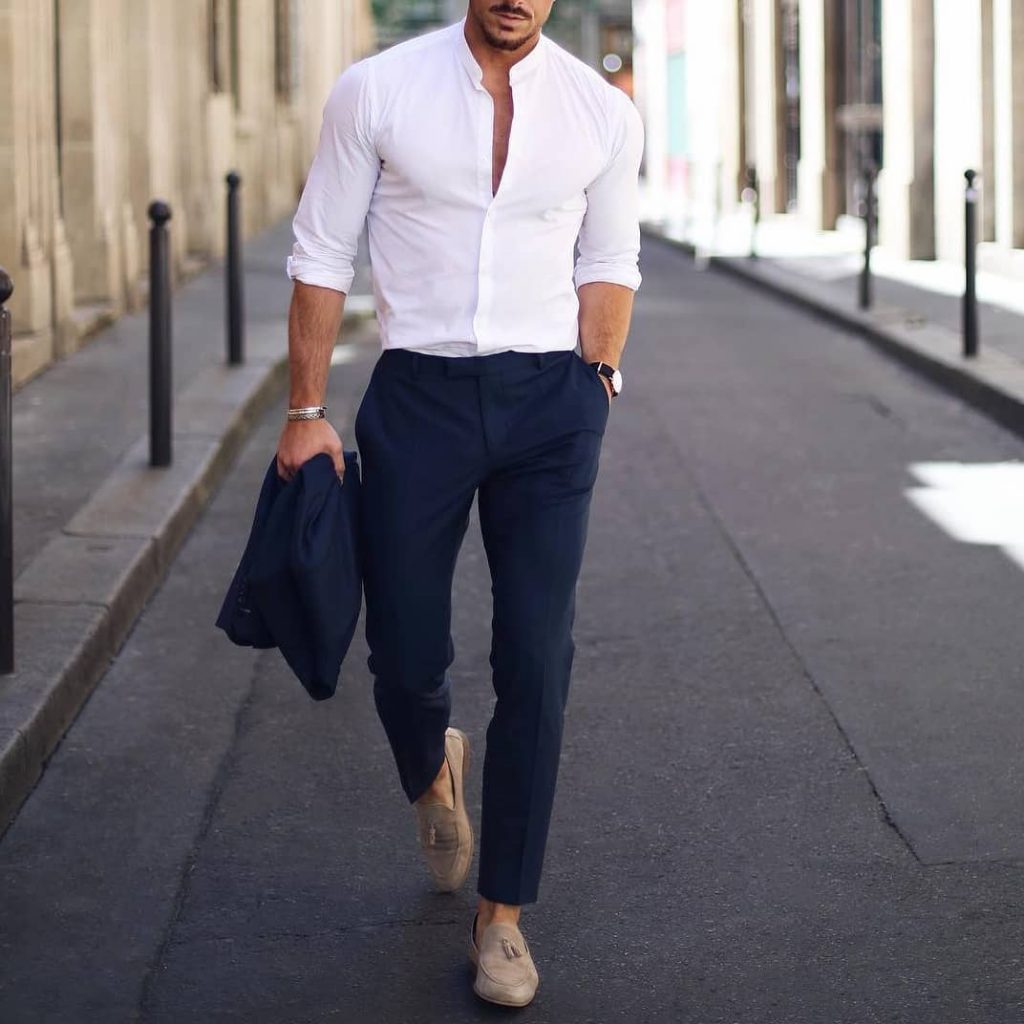 It's cautious to imply that you can get through an interview by wearing a standard white button shirt with a black tie, suit jacket, and slacks. If the employer who will interview you tells you that you can be more casual, take advantage of wearing a unique button-down. In this situation, you may want to decide not wearing a tie and allow the colour of the button-down to stand out. A good example is wearing a dark blue button-down but try to explore with a colour that would look good with your look. 
Wearing Loafers is Your Best Bet 
When it comes to your shoes, wearing closed-toe footwear is always required. Thus, the best option is a nice pair of loafers since it will put the rest of your closet together amazingly. 
The most important thing to remember here that your interview may be your first and last, you would want to present yourself in the best possible way. First impressions can make a big difference! So take into account our tips so you won't get over-dressed.